Organising in my life started at a young age when I used to go to friends houses and repack their cupboards. I found it so unnecessary to see my friends wasting so much time looking for what to wear. I worked in the furniture removal industry for 15 years both locally and abroad where I gained knowledge of moving procedures and how stressful a move can be if not planned properly. I started Simply Organised five years ago after the birth of my first child. I saw a need in the market to help people conquer their clutter before moving. I am now the proud mother of two young children and realize just how important it is to be organised in order to juggle work, children's activities and still have a social life.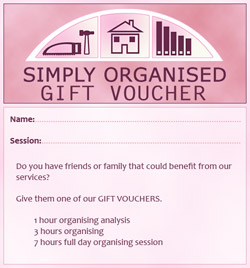 Thank you for taking the first step in investigating how Simply Organised can help you to de-clutter and organise your home so that you are surrounded by what is real and relevant to the lifestyle you are wanting to lead. Many of us go through periods in our life where we are overwhelmed by our belongings and just do not know where to start or what to sort out first leading to procrastination, further indecision and stagnation.
Simply Organised is a Cape Town based Professional Organising Service run by Tania Garde. Tania loves helping clients reclaim their space and restore order in their lives. She understands that your home is your Castle and all consultations are handled with strict confidentiality.
RECLAIM THE ORDER BACK IN YOUR HOME OR OFFICE
Make the call on or send us an email
T: 021-4218951
C: 073-2270314
E: tania@simplyorganised.co.za
Be ready for a gentle yet honest analysis of your space and the way forward
We will put together an action plan based on your individualised needs in your surroundings.
Your active participation
Be ready to get involved in the implementation of your plan guided by Simply Organised.
What's to be gained from de cluttering and organising your home or office
A well maintained organised home or office where everything has a space.
No more confusion as to where things are and how to get order back into your life.
With the benefit of a de-cluttered home your time management will improve.
Find things in a flash.
Frees-you up with time to do what's important to you:
Go for a long walk
Read a book
Work in the garden
Be proud to invite people to your home or office
Do you have friends or family that could benefit from our services?
Give them one of our GIFT VOUCHERS:
1 Hour Organising Session
3 Hour Organising Session
7 Hours Full day Organising Session